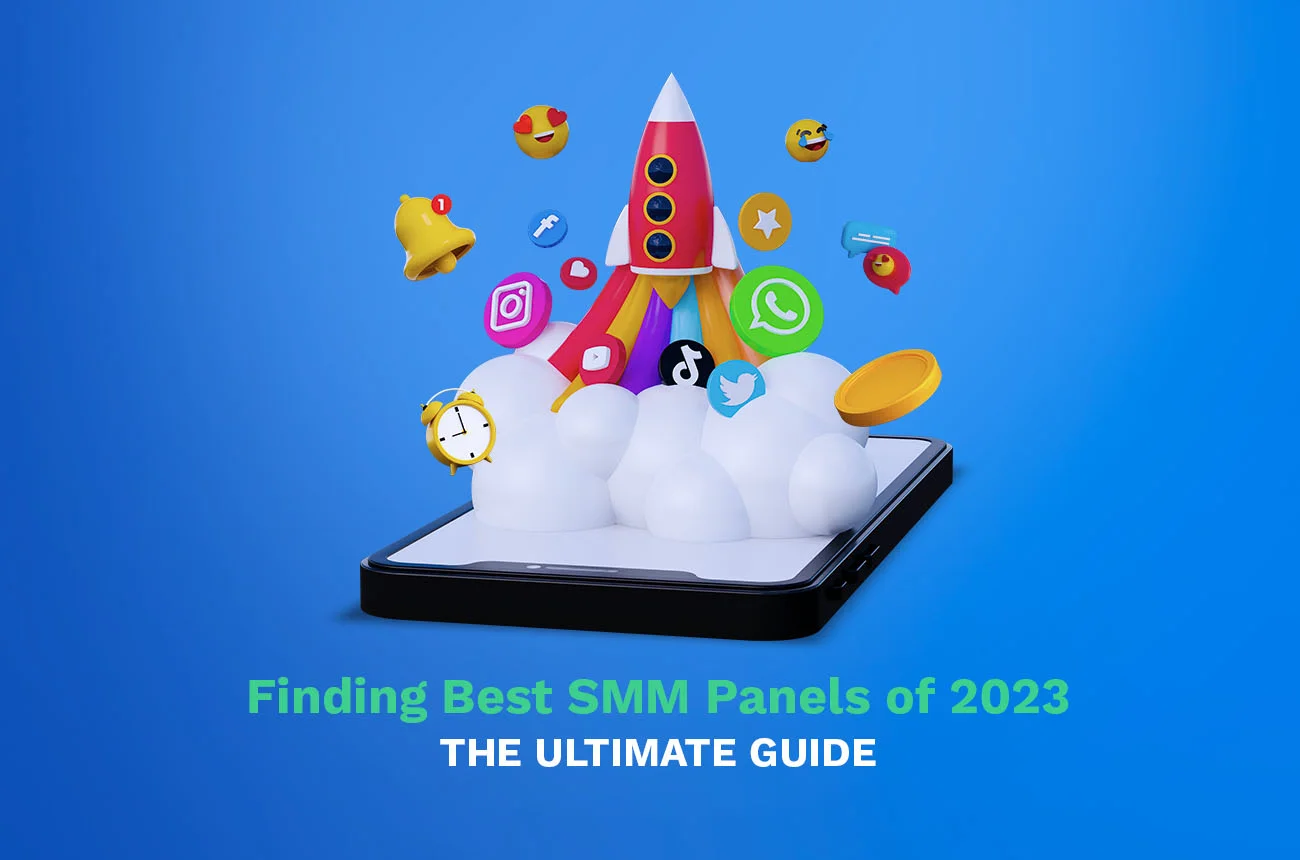 Finding Best SMM Panels of 2023 - THE ULTIMATE GUIDE
SMM, or social media marketing, is an essential component to both business and brand development and growth in the 21st century. The rise of modern social media platforms like Facebook, Twitter, Instagram and Tiktok since the early 2010s has seen brands rush to invest more in social media marketing in order to connect with their target market and strengthen their online presence.
As a result, during the latter half of the past decade, organizations, SMEs and businesses have scrambled to find the newest social media marketing tools, techniques and strategies. In this ever-evolving landscape of social media marketing (SMM), staying ahead of competitors requires the use of effective tools and unique promotion strategies.
A part of this evolution has been the SMM panel. SMM panels, or Social Media Management Panels have become a day to day part of any digital marketer's SMM tools arsenal, providing a platform to streamline all things social media management. SMM panels provide businesses with a one-stop-shop for their social media needs, including viewership, likes, followers, views, comments, and much more; making market growth much easier and unique than ever before.

As we approach 2024, ‌competition in the social media panel industry is increasing, making it challenging for businesses to find the best SMM panel for their needs. This ultimate guide aims to simplify the process and help you discover the top SMM panels of 2023.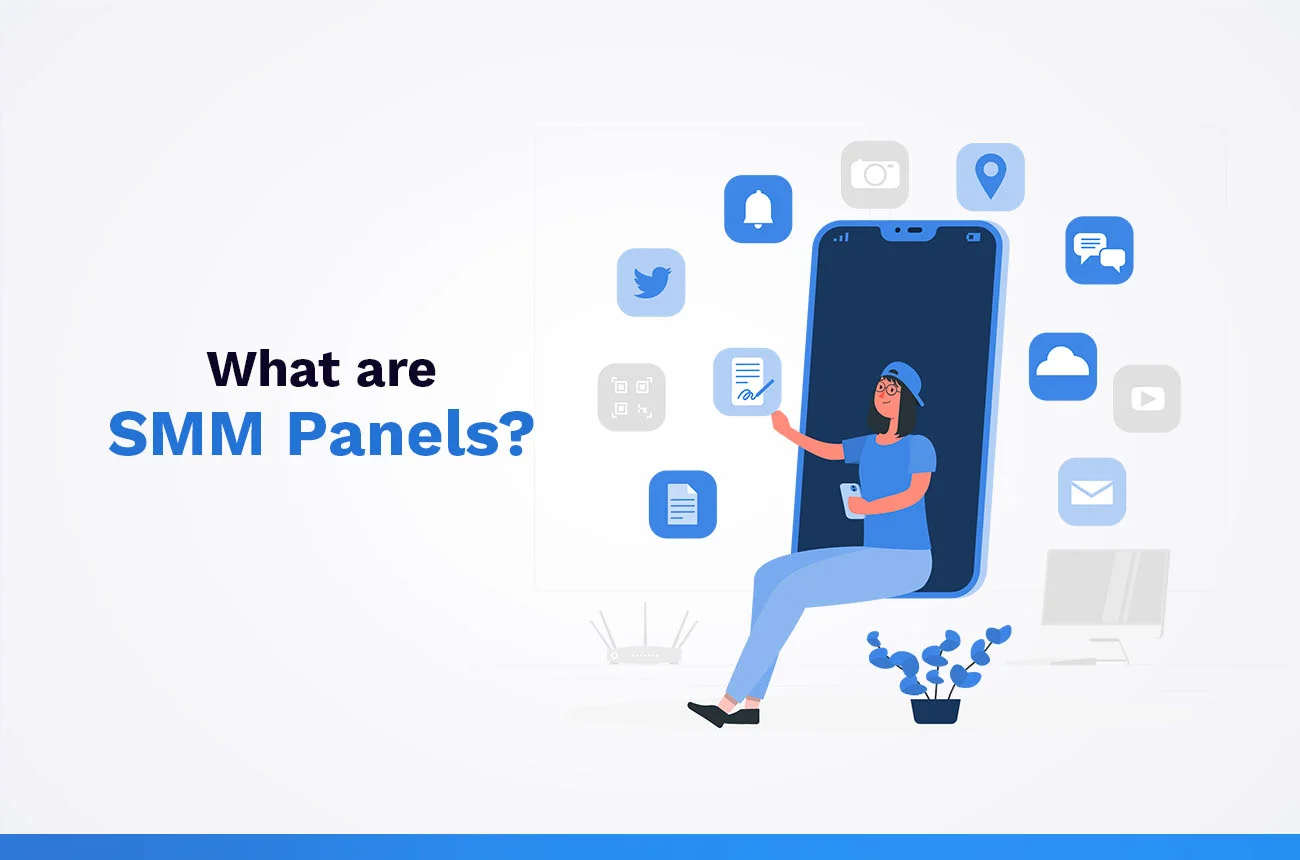 What are SMM Panels?
SMM panels, also known as social media marketing panels, are online platforms that facilitate the management and optimization of social media marketing campaigns. These panels offer a wide range and variety of social media optimization services, including audience or viewership targeting , posting and interaction automation tools, analytics, and content scheduling. SMM panels are frequently used by regular people, SMEs, businesses, and digital marketing agencies and firms to enhance their social media presence across a number of relevant platforms, including Facebook, Instagram, Twitter, YouTube, and more.
SMM panels act as intermediaries between users and social media platforms. They leverage their networks and resources to provide quick and efficient social media marketing solutions. These panels work by connecting users with real accounts and providing them with the desired engagement metrics to boost their social media presence.
How do SMM Panels Work?
Getting started with SMM panels is fairly simple. Users are first asked to create an account on the panel that they choose to subscribe to. Then, they can select their desired social media platform from a wide array of available networks like Facebook or Instagram.
They are also asked to choose the specific service they want to purchase or boost. For example, if a user wants to increase their Instagram followers, they can select the "Instagram Followers" service from within the SMM panel's user interface marketplace or webpage.
Once a user has made up their mind as to which service they want to avail, they are asked to input all relevant information to that service. This means if they choose to buy Instagram followers, they will be asked to provide their Instagram handle or url to the account and the number of followers they want to add. Some panels might also ask for a password, but reputable panels usually dont go that route.
Once the required information is provided, the SMM panel processes the order and delivers the desired engagement metrics. The delivery time of each service can often vary depending on the quality of the panel and the quantity of the service ordered (eg. larger orders take more time to process and execute). Some services can also be delivered instantly. However, most SMM panel services can take a few hours, days or weeks to complete.
It's important to note that reputable and trustworthy SMM panels do not use bots or fake accounts to provide desired engagement. Reputable panels ensure that the services they offer come from real and active social media accounts, which helps maintain the authenticity of the engagement and ensures compliance with the platform's terms of service.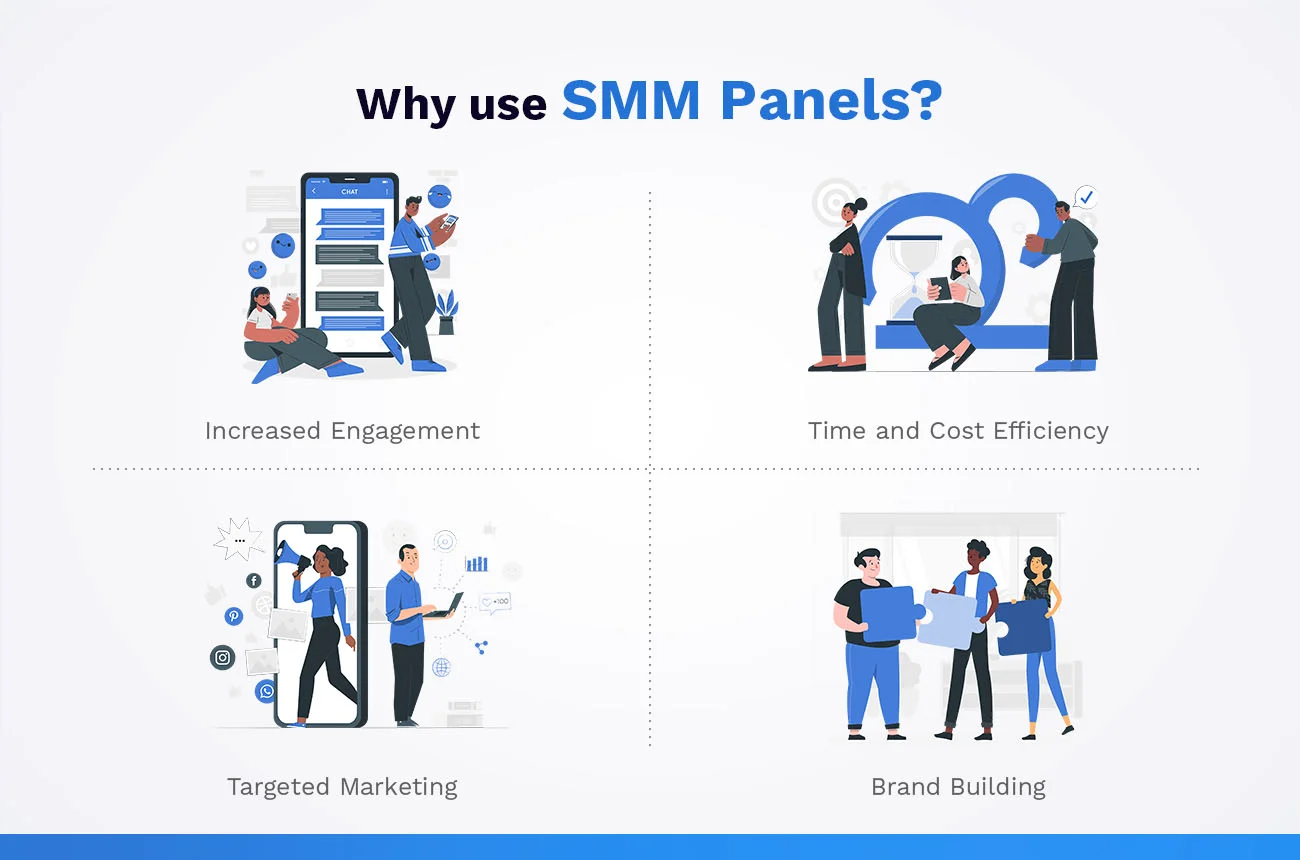 Why Use SMM Panels?
SMM panels offer several advantages for individuals and businesses looking to enhance their social media presence. Here are a few reasons why you might consider using SMM panels:
Increased Engagement:
SMM panels provide a quick and effective way to increase engagement on your social media accounts. Whether you need more likes, followers, comments, or shares, SMM panels can deliver the desired metrics, giving your content a boost and attracting organic engagement from real users.
Time and Cost Efficiency:
Instead of spending hours manually promoting your content and trying to attract followers, SMM panels automate the process, saving you time and effort. Additionally, purchasing services from SMM panels is often more cost-effective compared to traditional advertising methods.
Targeted Marketing:
The term targeted marketing refers to targetted promotion of your product or service to a specific demographic depending on age profile, interests, jobs or location. This form of targeted promotion allows you to tailor your campaigns and increase the probability that you reach out to ‌people who might actually be interested in your product or service. This, in turn will result in more revenue given enough time.
Brand Building:
A strong social media presence is crucial for building brand credibility and reputation. SMM panels can help you establish a solid foundation by increasing your followers, likes, and engagement, making your brand more visible and trustworthy.
It's important to choose reputable and reliable SMM panels to ensure the quality and authenticity of the services provided. Look for panels that have positive reviews from both reviewers and regular users, offer transparent pricing and most importantly, excellent customer support.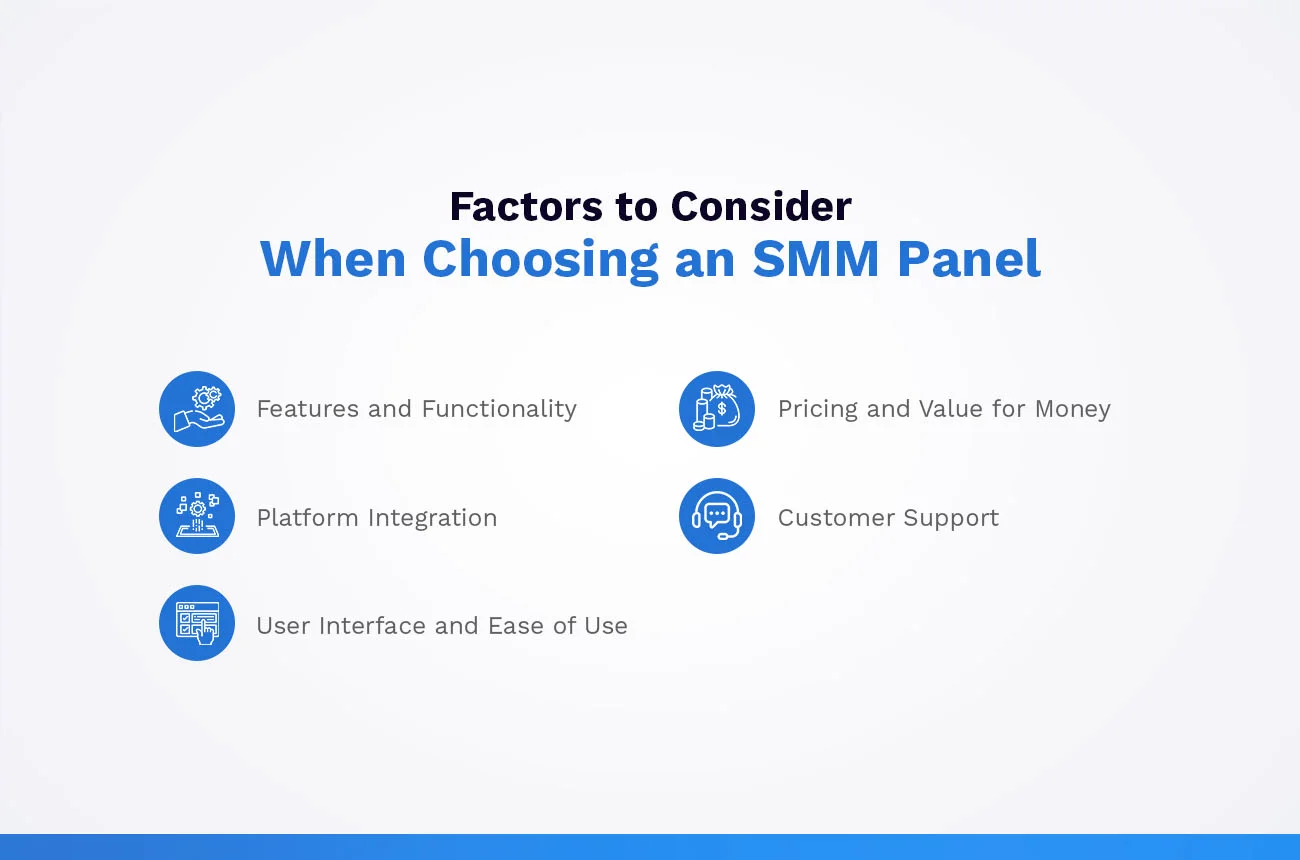 Factors to Consider When Choosing an SMM Panel
To find the best SMM panels of 2023, it's important to consider several key factors:
Features and Functionality:
Look for SMM panels that offer a comprehensive set of features aligned with your marketing goals. Features such as content scheduling, post automation, analytics, audience targeting, and engagement tools can significantly enhance your social media campaigns.
Platform Integration:
Ensure that the SMM panel supports integration with all of the social media platforms you intend to target. This will allow you to seamlessly browse and manage your strategies across all of your accounts from a single interface.
User Interface and Ease of Use:
This might seem like an after thought, but a user-friendly panel interface with an intuitive layout and easy navigation features can save time and effort. Choose an SMM panel that simplifies the management of your social media campaigns and doesn't require extensive technical knowledge.
Pricing and Value for Money:
Consider the pricing structure of the SMM panel that you are considering and evaluate whether it provides enough value for the services provided. Look for transparent pricing plans that align with your budget and consider if the investment will be worth it financially.
Customer support
Opt for an SMM panel that offers reliable customer support, including documentation, tutorials, and responsive assistance. Prompt customer support ensures that any issues or concerns are addressed promptly.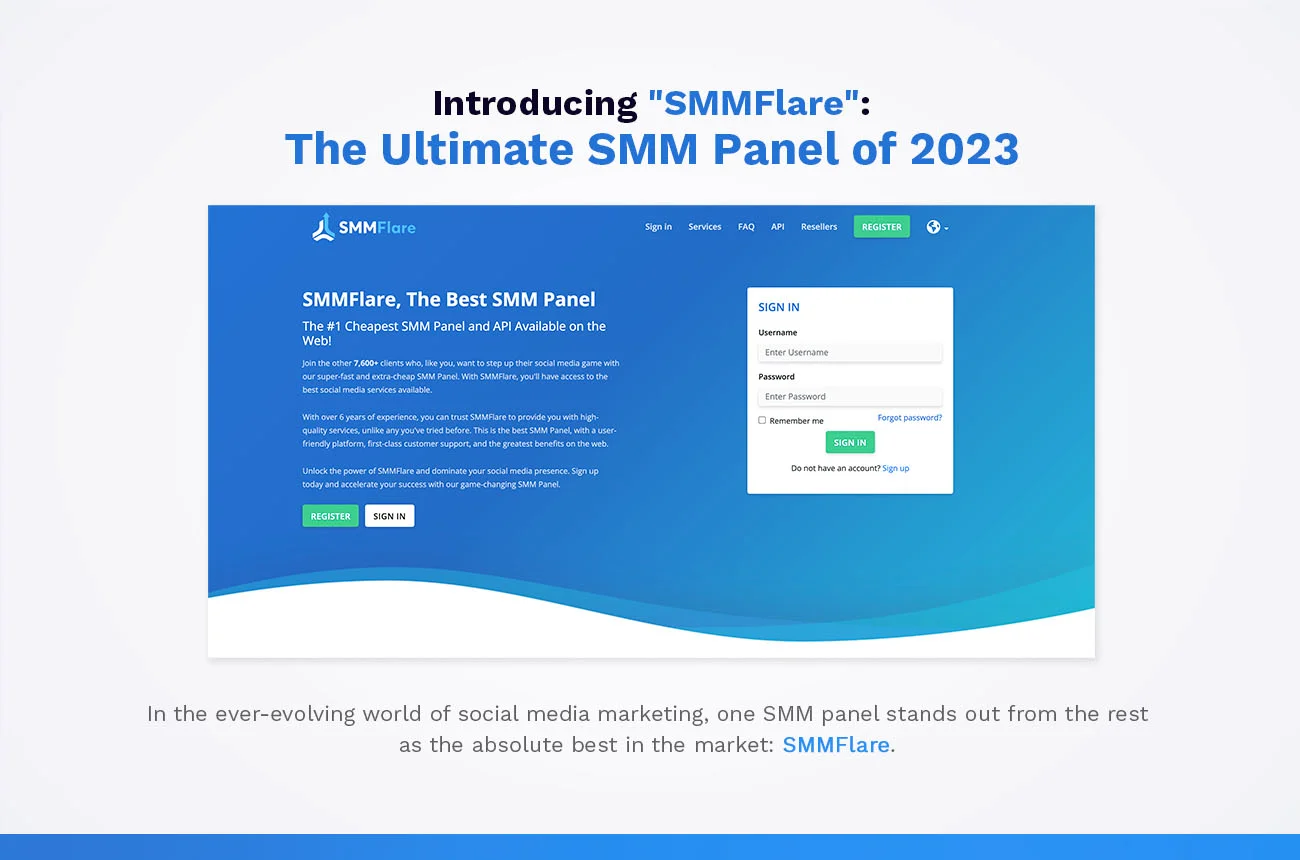 Introducing "SMMFlare": The Ultimate SMM Panel of 2023
In the ever-evolving world of social media marketing, one SMM panel stands out from the rest as the absolute best in the market: SMMFlare. This platform is designed to revolutionize your social media presence and take your online marketing efforts to new heights. Let's explore what makes SMMFlare our choice for best SMM panel for 2023.
Unparalleled Service Quality:
SMMFlare boasts an unparalleled commitment to service quality. With a vast network of real and active social media accounts, this platform ensures that all engagement metrics are authentic and genuine. Whether you need likes, followers, comments, or shares, SMMFlare delivers top-notch quality that drives organic engagement and enhances your brand's credibility.
Cutting-Edge Targeting Options:
One of the standout features of SMMFlare is its advanced targeting capabilities. This feature on the panel allows you to both manually and automatically identify your desired audience based on age demographics, occupations, interests, or location. With precise targeting, you can maximize the impact of your social media campaigns, reaching the right people at the right time and boosting your conversion rates.
Competitive Pricing:
SMMFlare understands the importance of affordability. They offer transparent pricing options that cater to various budget requirements. Whether you're a standalone brand, a small business or a large corporation, SMMFlare understands your needs and has packages that are custom built to suit your needs. The platform ensures that you get the most value for your investment compared to the rest of the market, allowing you to achieve your social media marketing goals without breaking the bank.
Exceptional Customer Support:
At SMMFlare, customer satisfaction is a top priority. The platform's dedicated support team is available 24/7 to address any questions or concerns you may have. Our testers have also reported that the support team is extremely helpful and always willing to support with any information or advice regarding social media marketing.
With fast and efficient responses via live chat, email, or ticket support, you can rest assured that your queries will be promptly attended to, ensuring a smooth and seamless user experience.
Innovative Features:
SMMFlare sets itself apart by offering innovative features that go beyond basic engagement metrics. The platform provides in-depth analytics and reporting tools, allowing you to track the performance of your social media campaigns and make data-driven decisions.
SMMFlare also offers a handy and easy to navigate interface that makes navigating the platform effortless, enabling you to place orders, manage campaigns, and monitor progress with way more ease than on other panels.
Stellar Reputation:
SMMFlare has earned a stellar reputation in the industry, backed by countless positive reviews from satisfied customers. Users praise the platform for its exceptional results, reliable services, and unmatched customer support. Consistent positive feedback and strong reputation make SMMFlare the go-to choice for individuals and businesses seeking the best SMM panel in the market.
Alternative Options: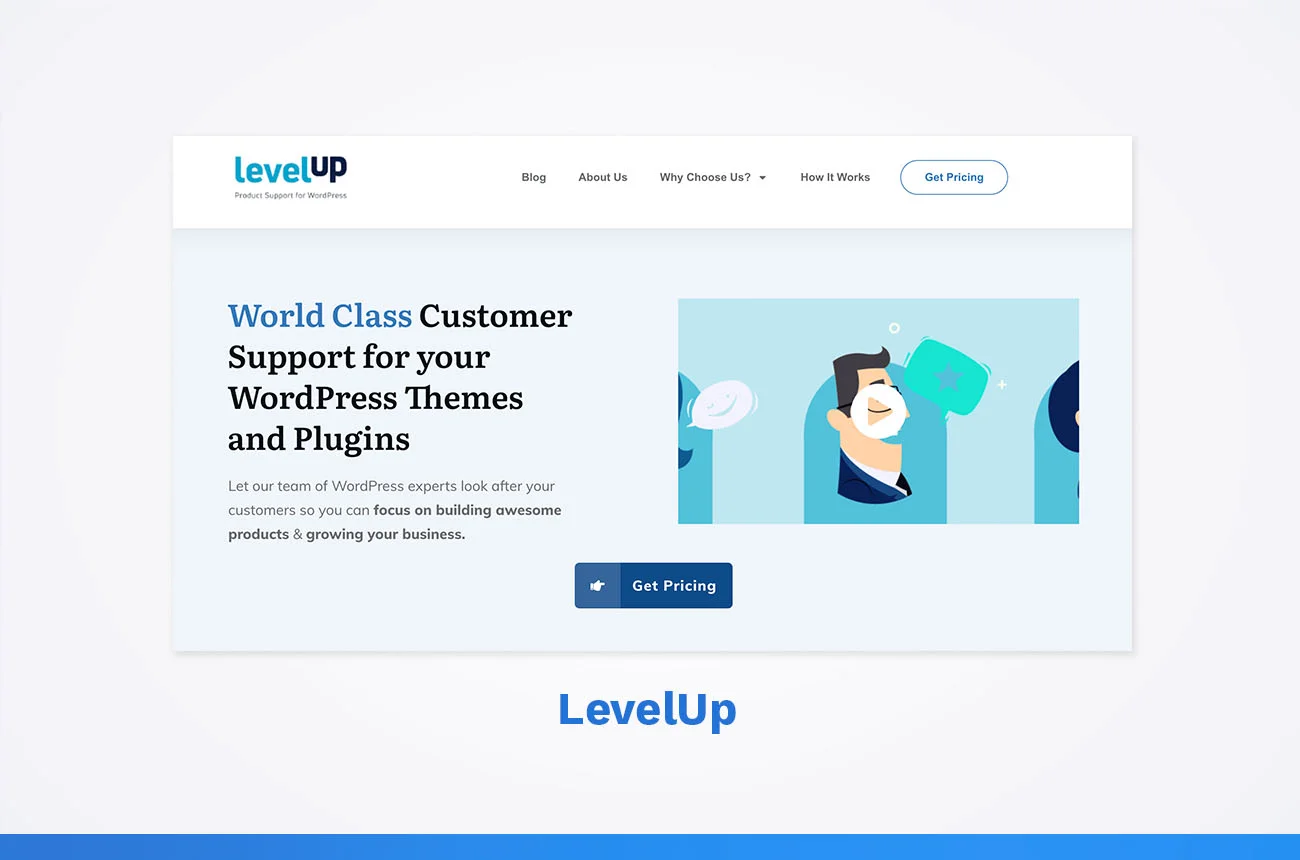 LevelUp:
LevelUp is a popular SMM panel known for its user-friendly interface and comprehensive features. It supports multiple social media platforms and offers services like content scheduling, post automation, analytics, and audience targeting. LevelUp also provides excellent customer support and offers competitive pricing plans suitable for individuals and businesses of all sizes.
Views.biz:
Views.biz is a robust SMM panel that caters to the needs of digital marketing agencies. It offers a range of advanced features, including team collaboration, client management, and white-label reporting. Views.biz integrates with major social media platforms and provides in-depth analytics to measure campaign performance effectively.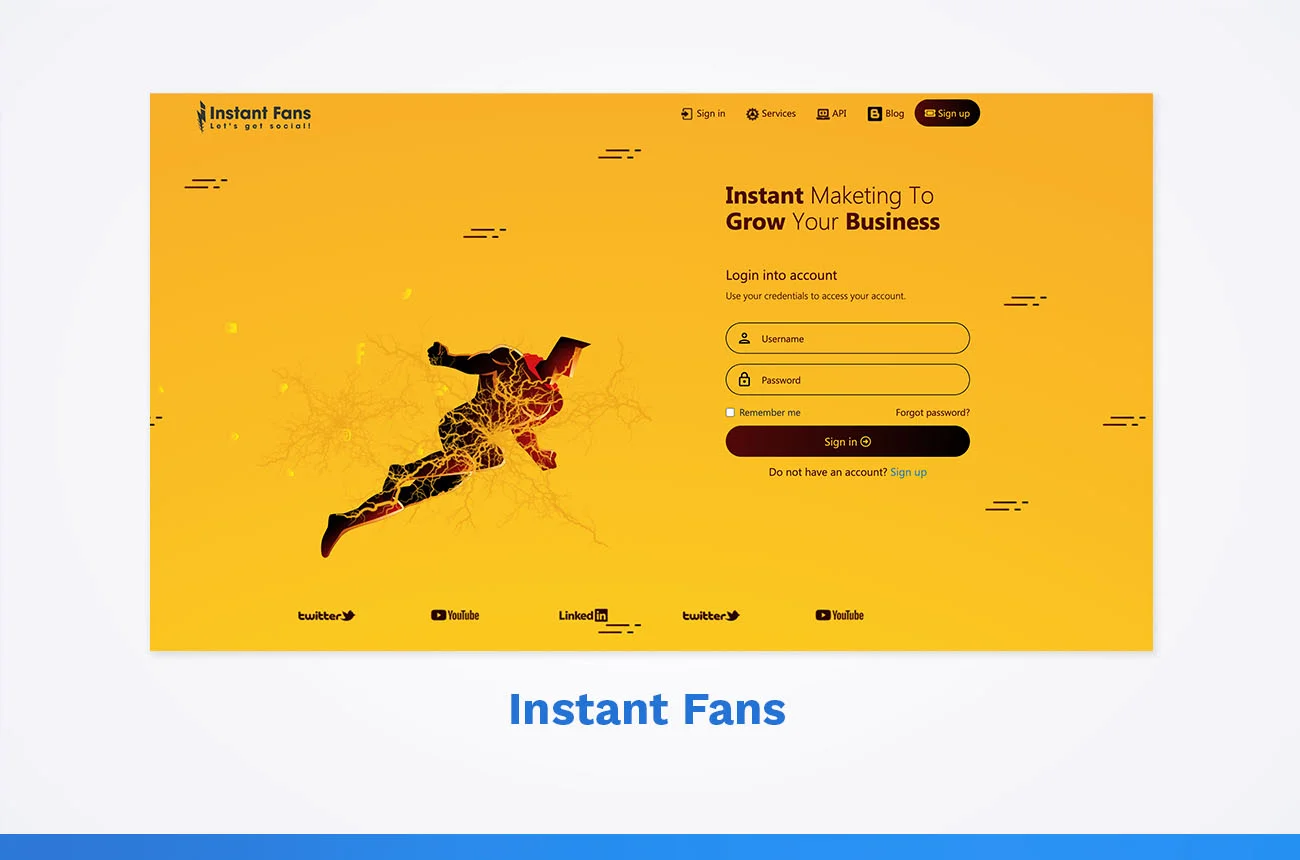 SMM Soar is a versatile SMM panel that focuses on delivering high-quality services. It offers a wide range of features, including automatic likes, followers, comments, and views for various social media platforms. SMM Soar provides flexible pricing plans and ensures prompt delivery of services.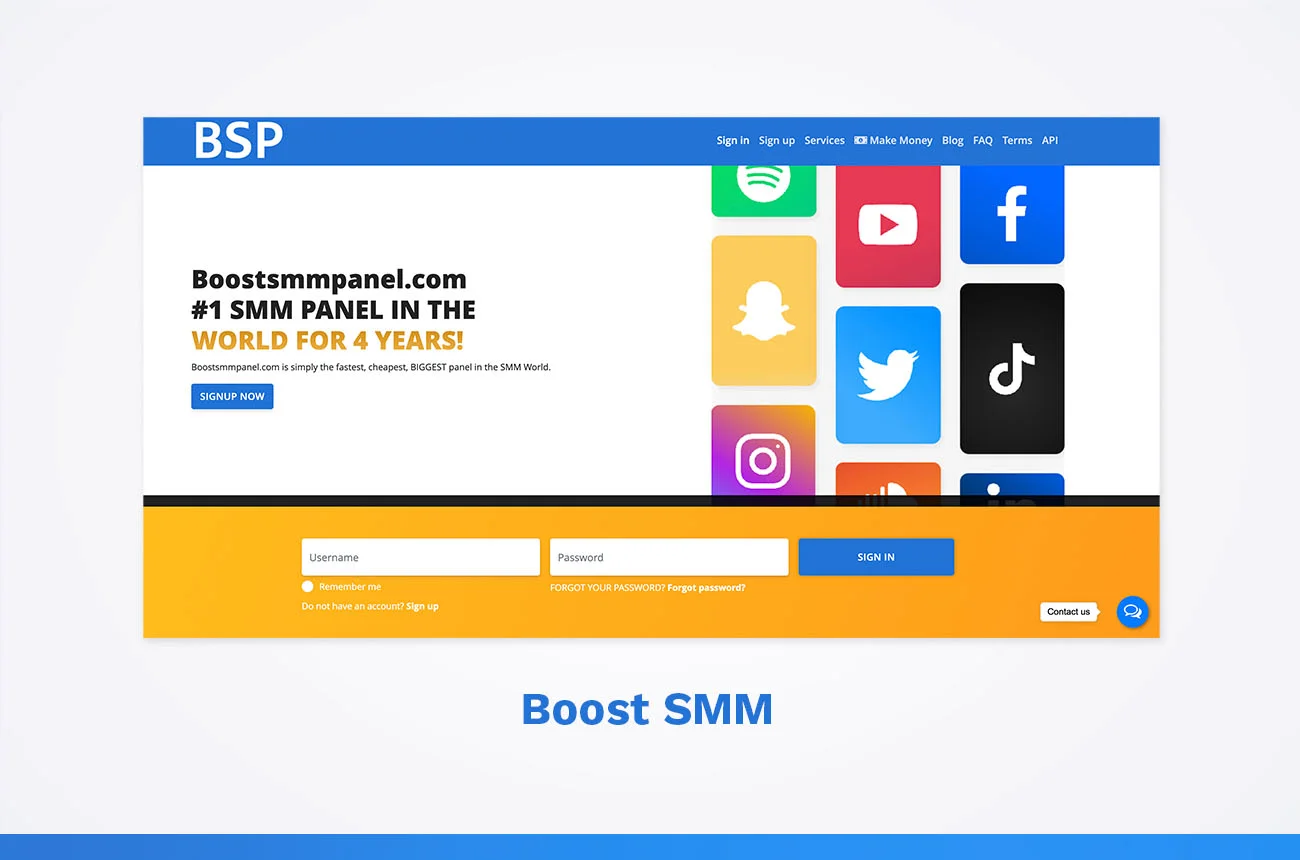 Boost SMM:
Boost SMM is an SMM panel that specializes in boosting social media engagement. It provides services such as likes, followers, views, and shares across multiple platforms. Boost SMM offers competitive prices, fast delivery, and a user-friendly dashboard.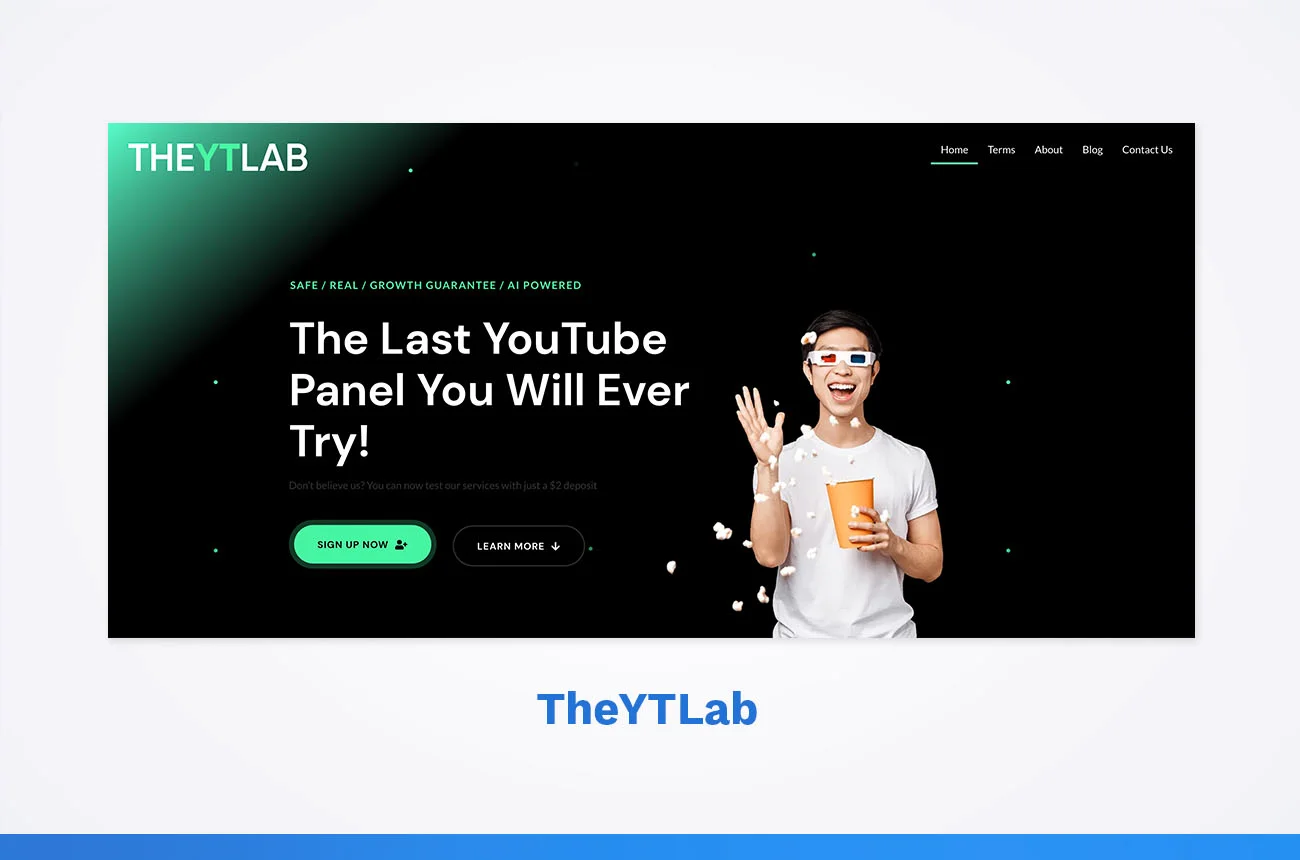 TheYTLab:
TheYTLab is a comprehensive SMM panel that offers a wide array of services for social media growth. From follower boosts to content creation and automation, TheYTLabl caters to various marketing needs. The platform supports popular social media platforms and provides detailed analytics for campaign monitoring.
Conclusion:
In the dynamic world of social media marketing, utilizing the right tools is crucial for success. SMM panels offer a centralized platform to manage and optimize social media campaigns efficiently. When searching for the best SMM panels of 2023, consider factors such as features, platform integration, user interface, pricing, and customer support.
The aforementioned SMM panels are excellent options to explore based on their comprehensive features, user-friendliness, and customer satisfaction. SMMFlare however, is the best and the most trustworthy option according to our panel of testers and experts to help you on your way to Social Media Marketing goals.